Welcome to our Thankful for YOU Sale!
We are so THANKFUL for each and every one of you! We want to show you how thankful we are by having a THANKFUL FOR YOU deal page with some of our favorite deals!  Some of the deals include some of our Dog+Mom Life products!
Unfortunately, you missed the BIG sale we had, but you can sign up for our newsletter HERE to find out when our next sale will be.  Although you missed the sale, we do have some other deals for you below.  You may want to bookmark this page because we will be updating it regularly.
Disclaimer: Affiliate links are in this post. As an Amazon Associate and member of other affiliate programs, I earn from qualifying purchases.
Come Wag Along Amazon Shop
Hoodies are normally $40, but they are on sale for $35!  Our t-shirts are normally $25 and they are on sale for $20!  Sorry, you missed our last sale, but if you have Amazon Prime, you'll get FREE SHIPPING on the items below. If you don't have Amazon prime then check out the amazing deal below! I got you! It's for the LOW and by LOW I mean FREE!
Amazon Prime Deal
Get Amazon Prime for FREE for 30 days! Perfect to do all of your holiday shopping! Can we say FAST FREE shipping? Yes, please! I'm telling you it will definitely come in handy. Click HERE or the banner below to try it for FREE today!
Come Wag Along Etsy Shop
If you prefer to shop on Etsy, visit our Come Wag Along Etsy shop by clicking HERE.  Our t-shirts are $20 there with a few different color options, but you have to pay for shipping unlike an Amazon Prime user.
RedBubble Current Deal
We also have a Redbubble shop where we sell a lot of products such as stickers, mugs, totes, zipper pouches, and more.  The Redbubble current deal is that you get 15% off EVERYTHING!  Use the code 15OFF. Everyone's favorite seems to be our stickers.  Click HERE to see all of the items in our shop or click HERE to view all of our stickers. Our sticker prices start at $2.50 and we always get a lot of love about them! Pick up a few while they are on sale! Perfect for scrapbooking, notebooks, water bottles, or wherever you want to stick them!
You can get the stickers in glossy, transparent, or matte finish.  The transparent stickers are perfect to use as a car decal.  You can also get them in various sizes.
 Amazon Deals
Just click on the banners below to shop the deal.
Lily Jade Deal
The original price of this amazing convertible leather diaper bag is $350! Get it for a steal at $199 by clicking HERE while they last. Lily Jade makes a perfect gift for moms-to-be, mom's who work, and mom's who do it ALL!  Read more about Lily Jade bags HERE.
Bark Box Deal
Get your first box 75% off PLUS a free extra toy! Spoil your pup for only $5! Sale ends 12/8.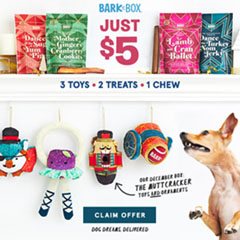 Best Holiday Gifts For Pet Lovers
Check out this amazing list of holiday gifts for pet lovers by Fidose of Reality by clicking HERE! You can see pet lover gifts from different pet experts.  They know exactly what pet lovers want so check it out now.