Are you wondering how to calm a dog down who is scared of loud sounds? Fireworks and thunder scare a lot of dogs! Fireworks scare dogs so much that July is when pets go missing the most!
What about a dog who has anxiety and doesn't like to be left alone? Yes, dog anxiety is a thing, unfortunately. Dogs have feelings too! Some dogs are chill and many things don't scare them, but some dogs are scared of EVERY LITTLE THING.
PIN IT!
My dog Simba isn't too scared of anything as long as I'm around. If he hears a loud sound like fireworks or thunder, his ears might perk up and he may even bark a little, but that's about it. It's not very often at all…he's usually super chill.
Every pet parent isn't as lucky as me and will need a little help in figuring out how to calm down a dog. So how do you calm a scared dog down? Here are some tips!
Disclaimer: Affiliate links are in this post. As an Amazon Associate and member of other affiliate programs, I earn from qualifying purchases.
Comfort the Dog
Simply try comforting the dog. A gentle rub or soothing your dog with your voice can instantly help. Dogs love their humans and you make them feel safe.
You are your dog's safe place. Help your dog relax by simply being there for your dog if it's something the dog is scared of.
If your dog has separation anxiety, then you can't really comfort the dog yourself if you're away. Try some of the tips below if your dog doesn't like to be left alone. You can also try leaving an item that smells like you to remind your dog of you when you're away.
Use DOGTV to Relax a Dog
Take your dog's attention off of whatever is bothering him by letting him watch DOGTV. What's DOGTV? Well, it's a channel especially made for dogs. Isn't that cool? I know! You can turn it on for your dog as you head out the door or watch it with him.
This channel for dogs is a way to keep your dog relaxed, entertained, happy, and on his best behavior. In addition to dog-friendly videos for your dog to watch there are also calming and soothing sounds. This is perfect if your dog has anxiety or is scared of loud sounds that you can now drown out with DOGTV.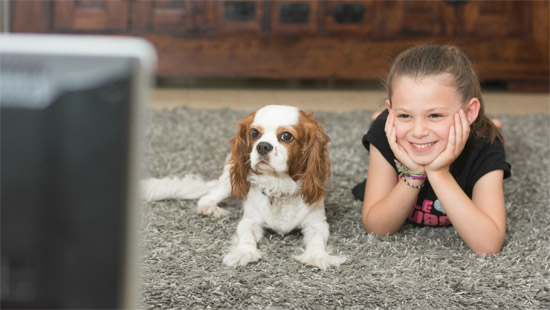 Get 33% OFF your FIRST MONTH of DOGTV to see if it works for your dog. Just use the code MY33OFF at checkout. Click HERE to sign up now. It's really simple to get started. Stream it on your favorite device like Fire TV, Roku, or Apple TV. You can cancel at any time.
Play Music to Calm Down a Dog
Music is good for the soul! I use music to help me relax all the time so it's great news to know that it can also be helpful to calm down a dog. You can simply ask Alexa to play "relaxing dog music" or you can open up Spotify or YouTube and search for "calm dog music" or "soothing dog music" etc.
There is music for dogs that is made with a dog in mind. Sleepy Dogs dog music seems to be a popular one.
Sleepy Dogs consider themselves experts in creating music to calm and soothe dogs who have trouble sleeping, anxiety, or scared of loud noises. So if you're feeling guilty about leaving your dog home alone or thunderstorms are very common in your area, you may want to give dog music a try ASAP!
Calming Dog Products
Sometimes music or TV may not be enough to help your dog with their emotions. You may have to take things a step further and try calming dog products. As always, speak to your vet before trying any of these calming products for dog anxiety.
Your vet will be able to help you figure out exactly what your dog needs because a vet I am not! The below are just suggestions that I have heard of. Click HERE or type below to chat with a dog vet in minutes, 24/7!
CrittEar
Did you know that dog earplugs are a thing? I didn't know, but I think it's amazing that CrittEar really cares about dogs and specializes in dog hearing protection. CrittEar is a women-owned business. These dog earplugs are the first of their kind for dogs with noise anxiety (fireworks, thunder, etc.,), as well as other protection. Click HERE to purchase.
Does your dog shudder and hide at the sound of thunder? Well, no more! Dog earplugs are now here! Dog's ear canals are uniquely shaped – that's why it's hist…
Click HERE to find out all the ways earplugs for dogs work.
Thundershirt
I'm sure you've heard of the Thundershirt before, but have you tried it for your dog? It seems to work for a lot of dogs so it's something to definitely consider. The Thundershirt works like a big ol' hug for your dog. Seriously.
It's basically a coat (which makes it easy to use) that applies constant GENTLE pressure to a dog that's scared or anxious.
According to Thundershirt, it is over 80% effective in reducing anxiety in dogs. Not only is it great for loud noises and separation anxiety, but it's also great for vet visits and travel too. The creators of Thundershirt also have Thunderease products such as calming dog spray and calming essential oil for dogs as well.
Click HERE to check out Thunderease products.
Calming Dog Treats
You may not want to give your dog anxiety medicine and I get it. So how about calming dog treats instead? Organic hemp calming treats and treats with melatonin for dogs seem to be pretty popular. Several calming dog treats help with anxiety, reducing stress, barking, and more.
Dog Essential Oils
Essential oils seem to be a big thing these days. Did you know that some essential oils are safe for pets too? You have to be careful though because some essential oils are actually poisonous to dogs like tea tree oil for example.
Definitely check with your vet first! If you've tried everything on this list and nothing seems to be working, then you'll definitely want to talk to your vet sooner rather than later.
Other Posts You Might Like
What to Do If You Lose Your Dog
6 Indoor Dog Activities to Entertain Your Dog