My dog doesn't care too much for rain or water at all for that matter.  Simba only cares about water when he is gulping it down to quench his thirst.  Water is not Simba's friend at all.  He doesn't even really like taking a bath.  I have no idea why he hates water so much, but he does.
If it's wet and rainy outside Simba is not having any parts of it! The only thing he is interested in is indoor dog activities. He will only go outside to do his business and even then he really doesn't want to go out in the rainy weather, but he has to do what he has to do.
PIN IT!
Even though Simba doesn't like the rain he still barks at the door to be let outside and then he scurries back inside in a matter of seconds.  It's like Simba has a battle on the inside with himself!  He's dying to be outside so he can play, run around, and explore, but the bad weather is messing up his flow!
Things to Do with Your Dog at Home
Sunny skies and beautiful days are just not going to always happen and we will just have to figure out some things to do when the weather sucks.  Here are some indoor dog activities that I'm sure your dog will enjoy when the weather is bad. Click HERE to sign up for our newsletter for pet parent hacks and tips plus be the first to get FREE printables and discount codes to our Etsy shop.
Disclaimer: Affiliate links are in this post. As an Amazon Associate and member of other affiliate programs, I earn from qualifying purchases.
Teach Your Dog New Tricks
This is the perfect time to teach your dog new tricks.  Your dog is probably bored from being stuck inside on a rainy day or whatever the reason may be and needs some excitement.  Learning new tricks will surely bring some excitement since your dog will be earning some dog treats for learning dog tricks.  It's a win for you and your dog! It's the perfect thing to add to your indoor dog activities list.
Play Fetch

You probably don't want to throw a ball in the house, but that doesn't mean that should stop you from playing fetch with your dog.  Roll the ball away from your dog and let him run and bring it back to you.  Your dog will still enjoy this game even though you aren't throwing the ball, trust!
Some people don't mind throwing a ball in their home and may have enough space to do so without breaking anything. iFetch is a cool toy that can be used indoors and there is also a cheaper version called the iFetch Frenzy where the ball rolls out on the floor instead of shooting out.
Watch DOGTV
Let your dog enjoy some TV and no I don't mean Netflix.  Chill out on the couch and let your dog lounge and watch a channel made especially for him.  Did you know there is a channel just for dogs?  It's called DOGTV and they have different things to watch just for dogs.
The channel is made to keep dogs relaxed, entertained, happy, and on their best behavior.  There are calming and soothing sounds and dog-friendly videos which are perfect if your dog is a little scared of thunder and lightning.
Try DOGTV for FREE for 7 days to see if your dog likes it or not.  I bet he will!  Click HERE to sign up now.  It's really simple to get started.  Stream it on your favorite device like Fire TV, Roku, or Apple TV.  You can cancel at any time.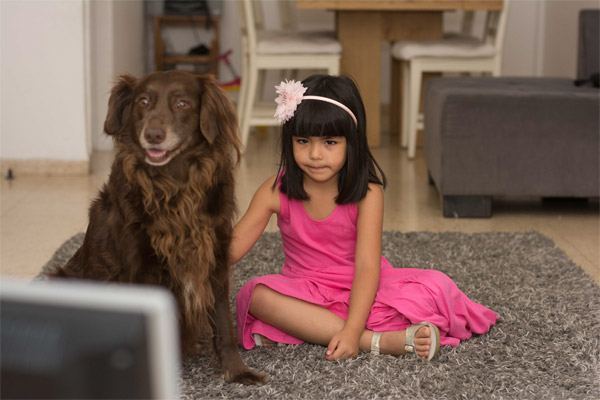 Hide And Seek
Hide your dog's favorite toy or hide yourself!  This is a great game that the whole family can take part in.  Simba loves to help the kids find us or help us find the kids.  When he has an idea of where someone is hiding his ears perk up and he starts to bark and wag his tail. He gets so excited and he really gets to put his dog senses to the test.
Indoor Dog Toys
Dog puzzle toys and Dog treat balls are great dog toys to play with on a rainy day.  It helps stimulate a dog's brain and they get treats in the process.  Another great dog toy to play with on a rainy day is the Tether Tug.  Simba is able to play a good ol' game of tug o war on his own with this dog toy.
If your dog loves to dig, check out the iDig digging toy by iFetch!  This interactive dog toy lets your dog dig without ruining anything.  All you have to do is tell your dog to "get it" or "go find it" and he will dig away at the pockets and flaps to find the hidden toys and treats.
Pull out your dog's favorite stuffed animals that squeak or a Kong dog toy that you can fill with his favorite treat which I'm sure will keep him busy for a while.
Take a Nap
Ok, so this might not really be considered an "activity", but my dog loves to sleep.  SLEEP IS BAE to my dog ok!?  He absolutely loves to take an awesome nap just like I do.  Simba loves to curl up on me or on my bed and catch a couple of Z's.  I'd have to say this is one of his favorite things to do and if you love sleep like we do then you know that rainy weather is the best weather to take a nap!
Other Posts You Might Like
3 Reasons You Should Exercise With Your Dog
Cartoons with Dogs You Need to Watch
Quotes About Dogs That Dog Moms Can Relate To
What indoor dog activities do you do with your dog on a rainy day?  Share in the comments below.  We'd love to hear from you!