Looking for some shows to watch on Netflix? I got you!  These TV shows aren't your typical ones.  Do you know how with some TV shows it takes you a little while to get into them? None of these shows on this list are like that.  You will be tempted to keep watching the next episode of each of these shows which is perfect for binge-watching!
4 Shows to Binge Watch on Netflix Before the New Seasons Start!
New seasons should be dropping for each of the below TV shows this year. Hopefully, you have some time to catch up before the new seasons start! Grab your popcorn! You're about to be glued to your TV screen. Here are some dope shows to watch on Netflix ASAP!
All American
Have you heard about the All American show that everyone seems to be talking about these days? I first saw it mentioned on my Facebook newsfeed so I added it to my list on Netflix to check it out. It's about a high school football player from Crenshaw Los Angeles that wants the opportunity to do better for himself.  It's inspired by a true story of the pro football player Spencer Paysinger.  I finally got around to looking at it the other day and I watched the first FIVE episodes back to back. It was THAT good.
The end of the first episode reels you in where you just can't stop watching it. If you like football you'll love it.  If you don't like football, you'll still love it!  It's full of drama so if sitting on the edge of your seat wondering what's going to happen next is your thing…you'll like this show. The show originally aired on the CW and it didn't do so well.  Since it's Netflix debut, everyone is talking about it and the second season will be coming soon as it just got renewed so watch up!
Stranger Things
Sci-fi is really not even my thing like that, but this show is so good! Stranger Things is a Netflix original and there are already 2 seasons available for your viewing pleasure. What's going on in this small town in the 80s is pretty strange. If you like paranormal or supernatural things and like to go on adventures of the unknown…this is for you! Even if you don't like sci-fi you should give it a try.  I don't really like sci-fi, but this had me hooked!  Also, the hubs told his parents about it and they watched the first season the same day. I promise you that you're not going to want to stop watching.  The Stranger Things 3 release date is July 4th, 2019.  Plenty of time for you to catch up!
1.5m Likes, 44k Comments – Stranger Things (@strangerthingstv) on Instagram: "JULY 4"
Greenleaf
If you want to see some church drama, then this is definitely your show.  There are all kinds of drama at the Greenleaf's church and in their personal lives.  So many secrets and so many lies.  It gets pretty messy in this church y'all! Some moments will definitely have you shaking your head or your mouth dropped to the floor, but you can't turn away. There are currently 3 seasons available with Greenleaf season 4 coming out sometime this year. Hurry and watch before the new season drops!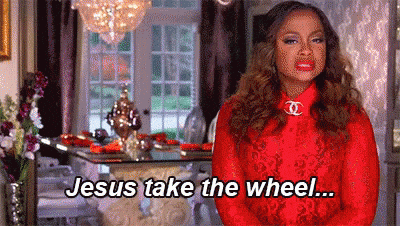 via GIPHY 
You
If you're looking for crazy, this is what you're looking for.  You'll probably think to yourself what in the heck am I watching right now, but you'll keep watching and watching and watching. It's a thriller and someone is totally obsessed with their new crush. With each episode, you'll be in shock at how crazy the show is and how crazy some people can be.  You may even find yourself rooting for the wrong side, but then come to your senses and then back to the wrong side again.  You're in for a mind-boggling ride!
There is currently one season available for your viewing pleasure. Season 2 is definitely coming soon, but there's no release date yet. It was announced there was a season 2 before season 1 was even available so you know this is a must watch!  I'm sure season 2 will be packed with a bunch of new twists!
PIN IT!
What are some binge-worthy TV shows on Netflix that you think everyone should watch?